You are invited to enjoy a very special introductory case delivered direct to your door at below cellar-door prices. Join our Experts' Choice Service now to receive a boutique case of wine every 12 weeks and at Christmas.
---
Plus on your introductory case, you'll receive:
12 delicious wines for only $119.99 – SAVE $135
2 FREE Gold medal Margaret River Shiraz + 2 FREE Dartington Crystal stemless glasses together worth $120
FREE DELIVERY to your door!
---
You'll enjoy the benefits of our Experts' Choice service. It's totally flexible and every wine is covered by our 100% money-back guarantee. If you don't like a wine, we will give you your money back.
Choose all reds, all whites or a delicious mix of both. They all come with FREE Gifts and FREE Delivery.
Here's what you'll enjoy:
SAVE $135 plus receive FREE Gifts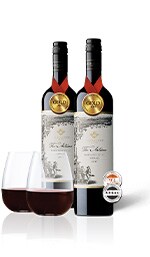 Order now and receive 2 bottles of Allegiance Wines The Artisan Margaret River Shiraz + 2 Dartington Crystal stemless glasses – together worth $120
Free delivery direct to your door
The Australian Wine cuts out the middleman to pass on the great value to 95,000 customers. Best of all delivery is FREE.
A Great New Dozen Every 12 weeks and at Christmas
You'll love how our Experts Choice' Service works. Enjoy 12 beautiful, handcrafted wines for just $189.99 (plus delivery). No commitment, – you're in charge: Want to find out more about the wines, switch a wine or two in your next case, alter or cancel deliveries – no worries, we'll sort it. If you like you can do this easily online, or by giving our friendly knowledgeable Wine Team a call. And if you're not delighted with any bottle, we'll arrange to collect it and refund you. View the benefits of the club.
No membership fees
Approximately 12 weeks later and at Christmas, you will get a glimpse of your next case.
Accept or defer as many cases as you want
NO obligation to take future cases.
Cancel at any time.
Big Savings. You'll save at least $50 off RRP on future Experts' Choice deliveries. Guaranteed.
FREE Tasting Notes included with every case you take
100% money-back guarantee
If you are disappointed with any bottle for any reason, we will refund you in full.
If you'd prefer to order by phone, please call 1300 762 174 and quote the code